Using a Ribbon to Retain the Olympus OM-D E-M5 Eyepiece
Trev
If you own an Olympus OM-D E-M5, then you have probably had the unpleasant experience of grabbing your camera to take some photos, only to discover that the eyepiece is missing, leaving the glass of the viewfinder completely unprotected. This happened to me for the first time after only three weeks of owning the camera. Fortunately, I found the eyepiece resting on the front seat of my car later that same day. It had probably come off of the camera when I removed it from my backpack while still seated in the car.
My first instinct after losing the eyepiece was to immediately order a new one. After checking all of the major online retailers and the Olympus store, none of them had the EP-10 eyepiece in stock. Some had the considerably larger and more expensive EP-11 eyepiece in stock, but the large rubber eyecup around that eyepiece seemed far too large for my taste.
My second instinct was to turn to the Internet for solutions to the lost eyepiece problem. I read tips about using various types of glue, tape, or silicon to retain the eyepiece, but none of them suited me. Then, it occurred to me that I might be able to take advantage of the tilting rear screen by using it to anchor some sort of tether to keep the eyepiece in place.
My first attempt used a piece of thread which was anchored to a small hole in the rear screen tilt arm. While this worked, it looked a bit sloppy and the thread would sometimes interfere with the tilting mechanism. I then realized that I could wrap a small piece of flat ribbon around the lower part of the eyepiece, and then tape the ends of the ribbon to the body behind the tilting screen as shown below: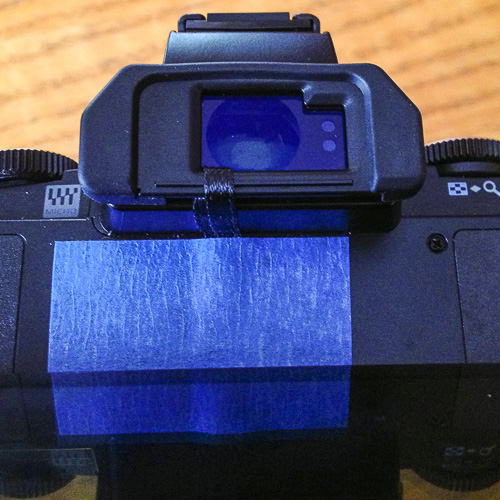 In the image above, I used blue painters tape to make the position of the tape more clear — but black gaffer tape is probably a better choice. The trick is to put slight tension on the ribbon, and place the tape high on the back so that the edge of the tape follows the corner created by the back of the body and the bottom of the viewfinder extension. With the tilt screen in the closed positon, the tape and most of the ribbon are nicely concealed, and because the ribbon follows along the bottom of the viewfinder extension, it does not interfere with the tilting rear screen.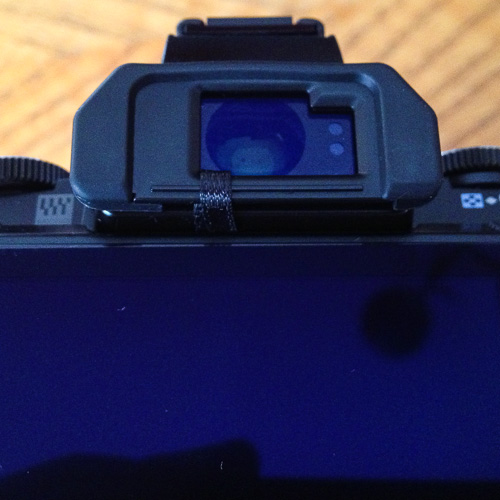 I really like this solution, as it looks very clean and is easily reversible. I may experiment with a slightly wider ribbon at some point, but this narrow ribbon seems to work quite well, and I do not notice it at all while using the camera.